Getting your home ready for winter is easier and more affordable than ever with 3M Thinsulate Climate Control Window Film from Salt Lake Window Tinting. 3M Thinsulate Climate Control Window Film is just the thing Salt Lake City residents need to stay warm this winter and save money on energy costs. Here's why.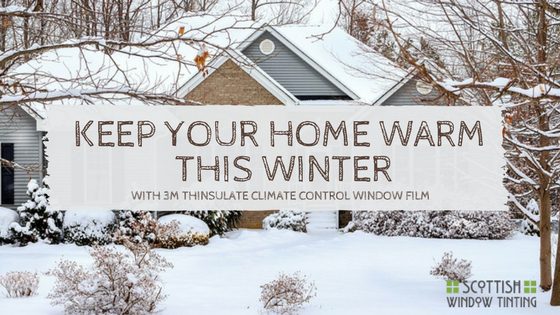 Winter this year in SLC is going to be cold!
As temperatures drop into the mid 70's this week, Salt Lake City residents are happily bidding goodbye to summer. It's nice to be able to enjoy the breeze that comes with cooler fall weather, but Utah veterans know that this phase won't last long. Winters in Salt Lake City come quickly and they hit hard. The Farmer's Almanac is predicting that winter in 2018 (January-February) will be much colder than usual.
Get ready for winter with 3M Thinsulate!
But don't start worrying just yet! There's still plenty of time to get ready for winter. And one of the best ways that you can prepare yourself and your family for winter storms in Salt Lake City is 3M Thinsulate Climate Control Window Film. 3M Thinsulate is a window film that's specially designed to perform all year long. 3M Thinsulate radiates heat back into your home which means it can keep you warm during even the coldest months of winter.
And the best part is, it can also seriously cut down your winter utility costs too. Studies show that 30% of heat loss in the average American home occurs as the result of poor window insulation. That means that even if you have the heat cranked up, it's literally going right out the window.
But that's where 3M Climate Control Window Film comes in. 3M Thinsulate Climate Control Window Film actually increases HVAC efficiency by boosting the insulating power of your windows. That means no more heat loss and no more high electricity bills.
Contact Salt Lake Window Tinting for 3M Window Film in Salt Lake City
Don't let winter catch you by surprise! Get your home prepared for winter while there's still time. Call Salt Lake Window Tinting today to have 3M Thinsulate Climate Control Window Film installed for your Salt Lake City home.