How Anti-Graffiti Film Works To Stop Vandalism In Salt Lake City
Whether deliberate or unintentional, vandalism can seriously affect your company's image and destroy your business message.  Which is why doing everything you can to prevent graffiti is a good business decision. While you can't stop would be vandals from trying to harm your building, correspondingly no building is immune,  but there are steps you can take to reduce your risk of attack and mitigate damages already done that dovetail perfectly with our anti-graffiti window film. Below we have listed three steps for you to take to make a vandal attack on your Salt Lake City office or commercial building less likely to be struck and more resilient after being vandalized.
3 Steps To Deter And Mitigate Vandalism On Your Salt Lake City Building
1) IDENTIFY WEAKNESSES IN YOUR SECURITY
Vandals just love areas that are out of the way and not closely monitored: perimeter points, unlit areas and architectural features like elevators and the perfect place to do damage.   Doing a quick lap around your property and making a list of vulnerable areas it a great way to start the process of avoiding graffiti-attacks. At Salt Lake Window Tinting we have a number of anti-graffiti films for the different surfaces that you will find: mirrors, glass, and metal.
2) TAKE STEPS TO DETER VANDALISM
Once you have accessed your vulnerabilities it is time to start taking steps to protect your commercial property or office space.  This includes increasing lighting in some areas, putting up security cameras in others and having anti-graffiti film applied to some of the most difficult areas to defend and remediate should vandalism occur. Graffiti film works as a sacrificial layer for these surfaces.  Since you can stop attempts at graffiti this method is proven to drastically reduce your costs once a mirrored, metal or glass surface is defaced. Our protective Metal Guard, Mirror-Guard and Glass Guard films are simply removed and replaced at a fraction of the cost of replacing the full architectural element.  We also have custom films to protect nearly any flat surface.
3) RESPOND IMMEDIATELY TO GRAFFITI
It is critical that you do not let graffiti sit on your property for any length of time.  This is for two reasons:
Leaving it on only encourages the vandal since their primary goal is to have their destruction on display. Removing the graffiti in one day by simply replacing the film takes away this satisfaction by immediately.

A single instance of vandalism has a ripple effect and the longer you let it sit, the more significant the overall implications of the event. Vandalism is more than just ugly it is a threat to your company's image, the leasability of your building, and brings neighborhood values down.
Learn more about Graffiti Sheild in the video below: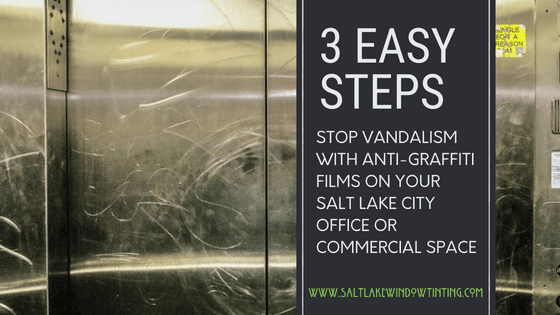 Anti-graffiti film allows you to cost-effectively take the steps to immediately remedy graffiti and keep your business running in the process.  This saves you money, retains clients and makes the businesses around you happy as well.
Contact us Salt Lake Window Tinting today for more information on your amazing anti-graffiti films for your Salt Lake City commercial space today!