Window Film For Hotels In THe Salt Lake City Area
The efficacy of window film is proven across a number of industries and commercial spaces. From scientific evidence to anecdotal proof it works for everything from schools to government buildings, and hospitals to transit stations. Window film is a technology that is shaping the world we live in and offers a number of benefits to any commercial buildings that has them applied. One commercial space that window film is particularly good for is–hotels, which reap many different rewards.
'
Why Window Film Greatly Benefits The Salt Lake City Hospitality Sector
There are a lot of reasons why hotels benefit so greatly from window film, the least of which is profit. Housing a large amount of people is a huge drain on resources and a reputation also must be kept intact to attract new visitors. The benefits below directly affect hotel guests and the bottom line of the hotel as a result.
Window Film For Energy-Efficient Salt Lake City Hotels
Hotels spend a very large amount of money on utility bills because of the demand put on their HVAC every day by guests in individual rooms. Window film is a way to ease the demands on the HVAC systems and resulting utility bills by keeping the air hotels pay to heat and cool inside the building. It also cuts down on the load on the HVAC system, reducing the cost and frequency of repairs.
Window Film For Secure Salt Lake City Hotels
Security is a big factor for hotels and their success. Having a hotel that is both secure against day to day crime like break-ins and larger scale attacks is important. An emerging request from hotels is what some would call "bulletproof glass". There is no such thing as actual bulletproof glass but glass in windows treated with specialty security window film, C-Bond adhesives, and reinforcement window frames, stay in place even after being struck by a bullet or suffering a bomb attack, preventing glass from flying into guests and hurting them and/o possibly even hindering attackers.
Window Film For Comfortable Salt Lake City Hotels
Guest experience is probably the most important thing for any reputable hotel. So keeping guests happy and comfortable is an absolute must for any hotel owner in Salt Lake City. Window film on windows of hotels allows you to offer your guests perfectly even temperatures in every room of the hotel and keep glare out of their eyes as well. Meaning guests stay comfortable and happy at all times of the day and 365 days per year.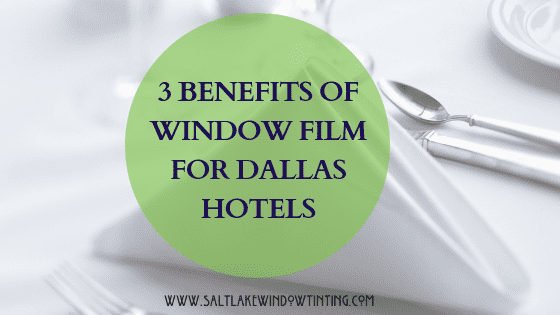 For more information on window film to make your Salt Lake City hotel more-profitable with window film, contact us at Salt Lake Window Tinting today!