How to Use Decorative Window Film for an Affordable, High-End Spanish Forks Office
As your business grows, you may seek to give your office in Spanish Forks a new and updated look. You may have decided to start your business in Spanish Forks so you can enjoy a better work-life balance and be able to take a break climbing in the Spanish Fork Canyon or simply take in the view of the mountains overlooking Utah Lake.  Business operations are often run on tight budgets and a full renovation may be disruptive to your day to day work. You can consider using decorative window film to refresh the look of your office without breaking the bank. Salt Lake Window Tinting works with effective and experienced window film installation technicians so businesses up and down Main Street can have a new look with little turnaround time.
Create a Custom Look for Your Spanish Forms Office Using Decorative Window Film
Are you looking for a way for your business to stand out and draw attention to potential customers' eyes? You can create custom graphics for your office using decorative window film. Our team of graphic designers can help you generate a high-definition image, logo, or any other signage you can imagine. The ability to presenting your brand in a clear and visually captivating way can be a highly important asset. Whether your business is a retail store, dental office, or restaurant, you want to draw your customers in with the right message and decorative window film can be part of that solution.
Style and Privacy in Your Spanish Forks Office With Elegant Window Film Designs
You can also use window film to create the right feel for your business. You can create custom designs or go through our extensive catalog of premade window film designs to decorate your office in Spanish Forks. Because we work with a number of top-rated manufacturers, we have window films in a number of different textures, colors, patterns, and prints for your choosing. Window films can also be used to create privacy in your office. You and your employees can be more productive in offices or meeting rooms dressed with privacy window films that add a level of discretion.
Window Film Creates Savings for Your Spanish Forks Business
What's more to love about window films is that they can help your business save on operational costs in the long run. Window films insulate your office from the hot, high altitude sun as well as cold mountain winters. You can maintain comfortable indoor temperatures while reducing energy bills for your office when you choose to install window film.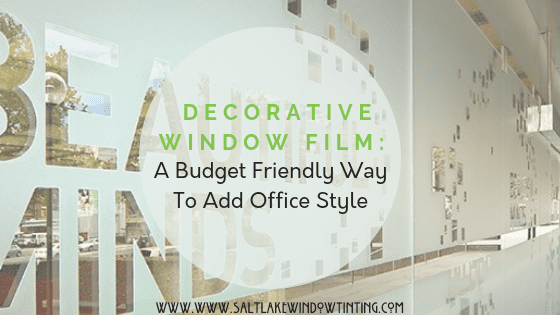 Salt Lake Window Tinting services Salt Lake City and surrounding areas including Spanish Forks for all things window film. We are happy to answer any questions so contact us today!